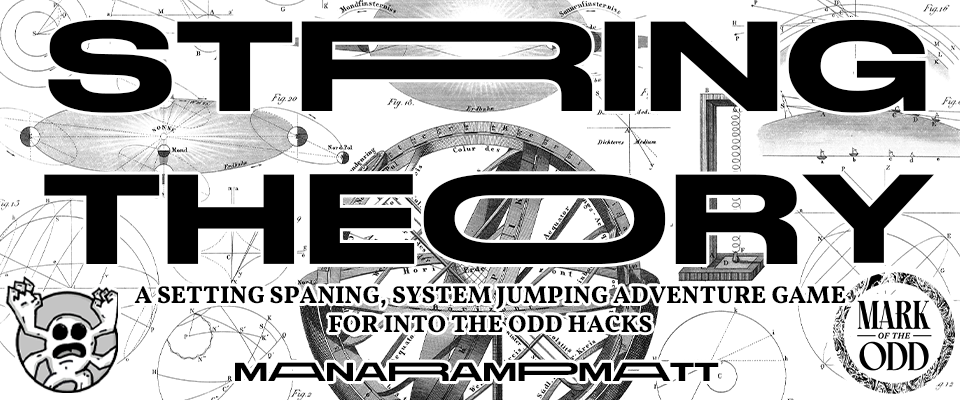 STRING THEORY
A downloadable Multiversal Framework
What is STRING THEORY?

Inspired by Doctor Who, Spelljammer for AD&D, and Magic the Gathering lore; STRING THEORY is a system spanning, multiversal adventure game where explores dawn the roles of researches and treasure seekers on an inter-dimensional craft. STRING THEORY is not a stand-alone game, rather, it is a framework for Game Masters to run episodic campaigns across the many Into the Odd hacks and Mark of the Odd games.
What does a Game Master need?
Game Masters will need a basic understanding of the rules, mechanics, and procedures of Chris McDowall's Into the Odd(and probably a copy). It will also be necessary, though not all at once, to begin stock-piling a collection of Into the Odd hacks and Mark of the Odd games (such as: Electric Bastionland, Maursitter, Cairn, ANNA-X66, Carapace, Into the Bronze and man, many more…).
Why should I play/run STRING THEORY?
The beauty of the Into the Odd chassis is that it is so malleable and accessible. That said, the possibilities of games and settings varies drastically. Whether you are a paranormal detective in Agents of O.D.D. or a Sumerian warrior in Into the Bronze, a tiny mouse adventurer in Mausritter or a gritty Eastern European knave in Cairn; this is the perfect set of rules for tabletop roleplaying. And here is the rub – Why not run a campaign were players jump between these settings as their stat block generally stays the same? Talk about a crazy adventure.
How does it work?
Being inspired by time-travel and multiversal exploration tropes and television series like Doctor Who; Game Masters will weave Players through "episodes" that last one or more sessions. Each episode should take place within a specific system and setting. When it is time to leave, Players board their inter-dimensional craft and whiz to the new location. Simple as that. Some games/hack add stats, feature, or skills; and the STRING THEORY players can add those to their characters, thus creating unique personalities.
Download