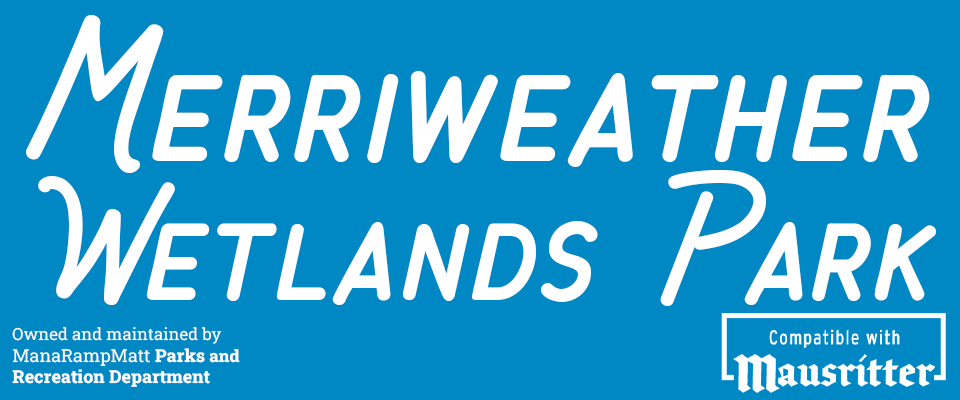 Merriweather Wetlands Park

"Merriweather Wetlands Park is home to an abundance of life. This nature reserve is a protected ecosystem and home to all sorts of native flora and fauna. This massive wetlands is accessible via a beautiful, weatherproof boardwalk. Come explore nature's paradise at the Merriweather Wetlands Boardwalk."
While the giants roamed this land, this park was a great escape for those looking to get out into nature. Now, this park is the Inland Kingdom of the Aves. Ruled over by a benevolent council of birds, this land is bountiful and teaming with activity. The frogs run the trade, the squirrels man the security. Wise toads and mystical nutrias guard hidden knowledge. Most of this land is only navigable by air or the Boardwalk Causeway, for those who venture to small, isolated islands; adventure is there to be had. Watch out for the lone coyote.

Merriweather Wetlands Park is a Mausritter adventure location that is based on real world wetland nature parks and boardwalks. This pamphlet presents a fleshed out region full of NPCs and many encounters.
Inside this Mausritter adventure location is:
A large adventure site
Political intrigue
5 Factions, all with goals and resources
A new Creature
Reference to many Third-Party Products
9 Locations
2d6 Boardwalk Events

Mausritter is a rules-light fantasy adventure RPG where players take up the sword and don the whiskers of a brave mouse adventurer.
It's a huge and dangerous world out there, and it does not look kindly on a small mouse. But if you are very brave and very clever and just a bit lucky, you might be able to survive. And if you survive long enough, you might even become a hero amongst mice.
Check it out here and purchase this amazing game: Mausritter.com

This little TTRPG trifold pamphlet is dedicated to my amazing wife, Mariah Leanne, my daughter Charlotte, and my newborn son, Seth Ryan. This adventure site was imagined whilst walking a mile each morning in week 39 of my wife's pregnancy in our local Wetlands Boardwalk at Happy Valley Park. Those moments in the Wetlands are priceless and this little adventure seeks to honor the amazing, powerful and beautiful woman my wife is! Thanks love!
Writing and Layout: Matthew Morris. Text is Creative Commons Attribution 4.0 International (CC by 4.0) Map was created by Matthew Morris with Inkarnate
Merriweather Wetlands Park is an independent production by ManaRampMatt and is not affiliated with Losing Games. It is published under the Mausritter Third-Party License.
Mausritter is copyright Losing Games.
Purchase
In order to download this game you must purchase it at or above the minimum price of $1 USD. You will get access to the following files:
Merriweather Wetlands Park.pdf
33 MB